When will my apparel order be processed?
DesignerGreek will hold your order until your fabric arrives, and once it does we will complimentarily cut your fabric, and begin the process of making your custom apparel!
What type of fabric should I purchase for my custom sewn-on letters?
Please purchase 100% cotton fabric with a small scale pattern. Large patterns become indiscernable when letters are cut out since the width of our letters is approximately 1 inch at any point. Please review the photo guide to the left before selecting your fabric.
How much fabric should I purchase & send in?
| Letter Sets | Amount |
| --- | --- |
| 1 - 2 | 20" X 20" |
| 3 - 4 | 1/4 yard |
| 5 - 8 | 1/2 yard |
| 9 -12 | 1 yard |
| 13+ group orders | Call for a quote |
Will my extra fabric be sent back?
No. Because we ask you to send only the exact amount we need, the scraps are minimal and often unusable.
Where can I get cool and unique fabric?
Local fabric store
Online fabric store
Spoonflower.com - design your own fabric
(By purchasing your fabric online you can have it shipped directly to our PO box which limits hassle).
Where should I send my custom fabric?
Please send via USPS to:
DesignerGreek
1404 NE 3rd Street
Suite 7
Bend, OR 97701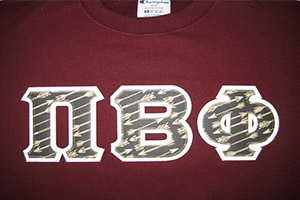 Example of a pattern that needs the desired orientation specified.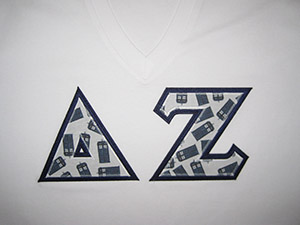 Example of a small scale print that works well with all letters.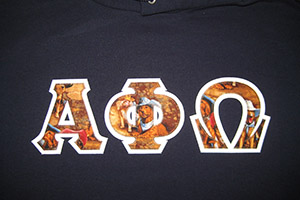 Example of a large print's pattern that exceeds the width of the letters.